Prof. Dr. Srdan Verstovsek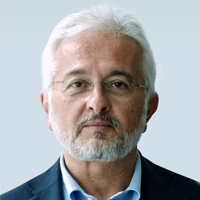 Prof. Dr. Alessandro M. Vannucchi
Dear Colleagues and Friends,
On behalf of the co-chairs, Prof. Dr. Srdan Verstovsek and Prof. Dr. Alessandro M. Vannucchi, MD Education are proud to announce the 2021 MPN-MDS EU Focus Meeting will be held virtually on 16, 17, and 18 of September.
Featuring 25+ MPN and MDS clinical experts from across Europe and the United States, the theme of the meeting, International Knowledge & Clinical Practice in 2021, reflects the collaboration to advance the research and treatment of patients with MPN & MDS globally.
The 3-day meeting will include presentations, round-table discussions, interactive Q&A with the presenters and poster sessions, all held virtually. Register below for a unique opportunity to garner knowledge, skills, and experience from leading clinicians to assess best practices and state-of-the-art treatments in MDS and MPN for your patients.
Learning Objectives
Upon completion of this event, participants should be better able to:
• Recognise the clinical and molecular features of patients suffering with MPN and MDS
• Identify the latest available treatment options and of those still in development, or pending approval, to improve patient outcomes.
• Understand the rationale behind the use of MPN and MDS drugs
• Identify the standard/combination therapy and novel drugs for managing MPN and MDS patients
MPN-MDS European Focus Meeting 2021
Welcome to the 2021 MPN-MDS EU Focus Meeting. You can access the 3-day meeting here.
View the scientific sessions, and the sponsored industry symposium on a day-to-day basis. We hope you enjoy the discussions and debates and our brand new conference platform.
CME Statement can be found here
How to claim your CME credits: For information on how to claim your CME credits please click here. You will be able to claim your CME credits from 18 September at 13.00 CEST by clicking on the Claim Your Credits button.

Financial Disclosures: To access the speakers' financial disclosures please click here.

INDUSTRY AREA
Enter here to access the interactive Exhibition Hall and Poster Hall. You can visit the virtual exhibitions, watch videos and download industry literature. The Industry area is now open!